Executive Summary:
General Electric Co. (GE) is a Global Company that is currently facing a huge downfall. The main reasons for its downfall are described in this paper along with evidence that shows its downfall. The GE is still a huge brand name in the fields of Power, Healthcare and Aviation but have tremendously lost its fame in the fields of transportation, Light bulbs, banking, oil and gas services and many more. The major issue with GE was it merged more than required and bought in as many various industries as it could but could not maintain them appropriately. The major Irony was when the stock prices suddenly rose up after the last CEO of GE, Jeffery Immelt announced to step down from its position (Colvin,2018). The situation was both happy and sad for the company and its employees. GE basically was introduced by Thomas Edison and its CEO of the time was Charles Coffin till the year 1922. Next came Reginald Jones and stayed on the throne of CEO from 1972 thru 1981, but he started in the company's business training in 1939. Then came Jack Welch and served the kingdom of GE as the CEO from 1981 thru 2001. Next in the line was Jeffery Immelt from 2001 thru 2017, and since then John Flannery has taken over and is the current CEO of GE.
Relevant Background Information
             General Electric Co. is a Multinational Company which was founded in 1892 in Schenectady, New York. It has its headquarters in Boston (Recently moved from Connecticut). General Electric (GE) is a global digital industrial company and its products and services range from aircraft engines, power generation, transportation, oil and gas production equipment to medical imaging, financial and industrial products. Thomas Edison, J.P. Morgan, Charles A. Coffin, Edwin J. Houston, Elihu Thompson are some of the Founders of General Electric Company. It was once called the Titanic of the global market, but as we know, nothing could save the titanic from sinking and the same is happening with GE. It is consistently sinking because of its own decisions and the over-achieving dream of acquiring most of the global market. Along with the various business GE merged with, the company also purchased RCA Corporation in 1986, which also included the RCA owned television network, the National Broadcasting Company(NBC). Within a year of purchasing RCA Corporation, GE sold the consumer electronic division of RCA to a French firm called Thomson SA in 1987 (Encyclopedia Britannica, 2019).
A Clear Articulation of the Problem and the People and Resources it Affects
             Many things led to the huge downfall of a great company and there is no one reason to blame for. Like to name some, GE's shopping spree could be blamed, the train wreck could be blamed, the Murky accounting could be blamed too. To generalize, the downfall mainly affected the Millions of shareholders and More than 300,000 Employees around the globe (Egan, 2017). More than anyone else, it affected the name and fame of the company, where in November 2016 more than $100,000 billion vanished from GE's Market value (Egan, 2017). The stock crashed devilishly to a six-year bottom when the company admitted that it can no longer afford the dividend which once marked the stability of general Electric Co. The mess in GE at Immelt's tenure escalated quickly like a wildfire that even after Immelt stepped down, Flannery Could not clear the mess. "Its hard for them to understand how this thing fell apart so quickly" said John Inch, a deutsche Bank analyst who covers GE (Egan, 2017). During time of Welch being the CEO, he decided over may mergers and acquisitions which went against GE and lead to the cash crunch. One big Crunch was to conquer Alstom for $9.5Billion. this 2015 transaction by GE was the biggest ever industrial purchase. Alstom Power is in business for its coal-fueled turbines used by power plants. Inch also called the Alstom deal as disaster which supports the current repo of GE for 'buying high and selling low'. Likewise GE also overpaid for the Baker Hughes Merger, a major company that deals with the services and equipment for oil drilling. Similarly, many more businesses of the GE fraternity have been put up for sale, like the railroads and the light bulbs.
            Next in line for the loss of GE was to not let go of their major acquisition, GE Capital.
GE thought that Capital was too-big-to-fail bank, but instead it became a huge deal of liability during the financial crisis of the 1990s. This was not enough to blow GE, but in 2009 SEC charged GE with accounting fraud alleging that the company used overly aggressive accounting to make misleading statements. After this, GE paid $50 million to settle the charges (Egan, 2017). The graph below explains the company's downfall during the reign of 3 CEO's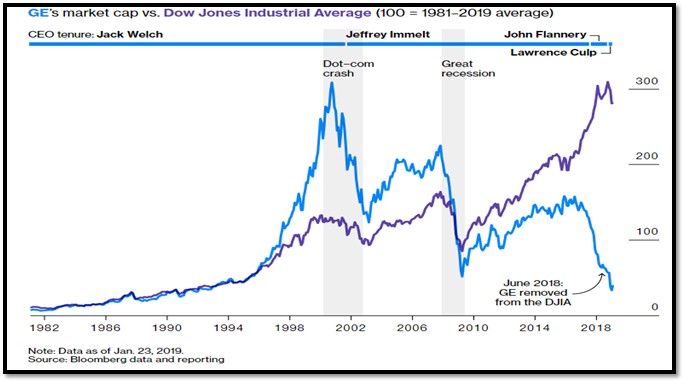 Fig 1, GE's Market cap vs. Dow Jones Industrial Average
Recommendations and Reasons for Them
According to me, the company should have thought rigorously before expansion and buying huge companies from various industries. But since it has already been bought, they should have maintained it, or at least let go of the few without inculcating such a big loss. Now since GE is still a reputed name and is doing well in its Healthcare, Power and Aviation Divisions, it should try to handle, develop and maintain them rather then focusing on loss and other not required mergers and acquisitions. The main reason behind this is in spite of incurring so many losses and loosing so many important people from the company it still ranks on the 16th position with a negative 26% of profit that's $32,757Million loss (Best Global Brands-GE, 2019). The graph below explains the loss of GE over the years and decades. Although we know that healthcare is not the largest segment of the GE Co., this segment contributed the most revenue of $19.1billion. Also from the next year of the first quarters, the revenue generated were around $20 billion (Seeking Alpha, 2019). Based on the statistics, I would strongly recommend GE Co. to develop and expand its healthcare segment and generate huge profits.

 Fig 2, GE's Brand Values over the years
Website: www.interbrands.com
Source: Best-Global-Brands
Conclusion
From all the data and graphs and the comments by internal employee or external competitor, we could easily conclude that GE is sinking but is still counted as one of the major global companies around the globe. It can strive to expand and develop its healthcare segment as it generates a huge revenue for the company. It has created an untold benchmark for all other companies so that they do not repeat GE's mistakes and learn great lessons in order to flourish and maintain its name in the business world. It teaches them to only conquer things that you can handle and scrap out the rest. And if you do not let go of your unwanted assets, it sooner or later becomes your liability.
References
Brewer Reuben Gregg, (16th March, 2019). Thinking of Buying General Electric Company Stock? Here's What you need to know. Retrieved from https://www.fool.com
Bromels John, (13th March,2019). Why investors should Expect More Volatility from General Electric. Retrieved from https://www.fool.com
Charting GE's Historic Rise and Tortured Downfall, (31st January, 2019), Retrieved from https://www.bloomberg.com/graphics/2019-general-electric-rise-and-downfall/
Colvin Geoff, (24th May, 2018), What the Hell happened at GE?. Retrieved from fortune.com/ge-decline-what-the-hell-happened/
Egan Matt, (20th November, 2017). How decades of bad decision broke GE. Retrieved from https://money.cnn.com
Encyclopedia Britannica. (2019). General Electric | History, Acquisitions, Products, Facts. [online] Retrieved from https://www.britannica.com/topic/General-Electric
Interbrand. (n.d.). Retrieved March 21, 2019, from https://www.interbrand.com/best-brands/best-global-brands/2018/ranking/ge
Seeking Alpha. (2019). General Electric: The next huge step. [online] Available at: https://seekingalpha.com/article/4229664-general-electric-next-huge-step