The pharma industry needs to come together and align with worldwide government plans in containing future viral outbreaks and prevent disastrous effects on the economy and commerce.
WHAT ARE THE CHALLENGES FACED?
1) Limiting imports from few countries
In the United States, approximately 72% of active pharmaceutical ingredients (APIs) that supply the domestic market are imported from countries around the world. The major importers are China and India.
China's production that manufactures 13% of U.S. medical products has been significantly curtailed. India which is the source of 18% of U.S. pharmaceutical imports is also constrained.




These two countries account for about 90% of the medicines taken by Americans. India supplies about 40% of over-the counter and generic prescription drugs to the United States and depends, in turn, on China for about 80% of APIs and chemical intermediates essential for production. China also ranks first among countries that export medical devices to the United States making the supply of medical products in the U.S. vulnerable when suppliers' production in China is disrupted unexpectedly.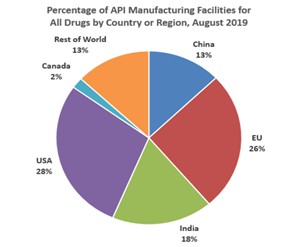 Figure 1: Manufacturing Sites of APIs for U.S. Market by Country or Region
From the above import statistics, we can say that most of the U.S. medicine supply is sourced from too few areas of the world. When crises such as natural disasters and pandemics like Covid-19 arise, major interruptions in the supply of quality medicines would have a global impact.
2) Quality of medicines
Medicines identified as counterfeit may be contaminated, contain the wrong ingredient, or have no active ingredient at all.
The World Health Organization estimates that counterfeit medicines worth $79 billion are traded annually. The situation can worsen during times of shortages when patients desperately seek online sources, which may be counterfeiters disguised as legal pharmacies.
During a global crisis, maintaining the quality of medicines is paramount to ensure that patients receive the treatments they need. When faced with a shortage, countries have sometimes resorted to purchasing medicines from untested suppliers.
3) Global cooperation
The model of countries thinking only of themselves is not going to work. The nationalistic priorities of individual nations could stop the initiative to contain hot spots wherever they are on the planets, especially poor countries that cannot afford the vaccine. The United States could be left in the cold if vaccines developed here as part of a go-it-alone approach turn out to be less effective than those produced in China or Europe.
RESPONDING TO COVID-19 IN PHARMACEUTICAL SUPPLY CHAIN
These are few steps in my opinion that could help bringing down the global crisis to some extent.
Increasing geographic diversity in manufacturing and ensuring global cooperation
Manufacturing that is more evenly distributed globally will mitigate the risk of supply disruptions so that when a crisis affects supply in one part of the world, the rest of the world can scale up production.
Enhanced global cooperation can also help countries secure critical medicines, especially considering challenges caused by border closures. During past drug shortages and public health emergencies, information sharing by regulatory authorities around the world has expedited the approval of essential vaccines and medicines, prevented the distribution of substandard and falsified medicines, and quickly mobilized resources.
The bubble chart below shows European Union is the leader in exporting pharmaceutical products, followed by Germany and US in the top 3. In lieu of global cooperation, if the major exporters come together in handling the demand for medical supplies and drugs, major interruptions in the supply chain could be mitigated to a large extent.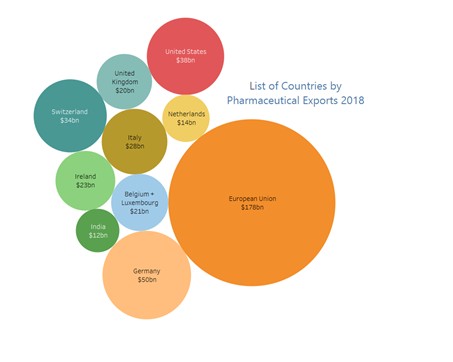 Ensuring supply of critical medicines
It is unrealistic for any country to manufacture all of its own medicines. But, if countries start investing in developing their pharmaceutical sectors, all countries should be able to make at least the essential ones.  Investing in advanced technologies and ensuring an adequate supply of these essential medicines can help against disruptions in supply during a global crisis. The U.S. should also expand investments to ensure an appropriate supply of the medicines and vaccines needed to address the most urgent public health concerns.
Increasing transparency
To maintain a strong and safe supply chain, regulators need to know where medicines and ingredients are manufactured and how they pass through the supply chain.
Drug manufacturers and ingredient suppliers should be required to monitor and report to governments on their capacity and the quality of ingredients they source.
Increase transparency across the supply chain to address and avoid potential supply chain concerns, governments should expand public reporting requirements to healthcare providers and industry for indicators on existing or potential drug shortages.
Strengthening regulatory systems and quality assurance
In this time, maintaining the quality of medicines is paramount to ensure that patients receive the treatments they need. The urgency to secure and develop new therapeutics and vaccines must be coupled with safety and quality.
Stronger regulatory systems are needed to efficiently review applications for therapeutics and vaccines and adhere to quality standards. This could be done through greater enforcement of regulations and investments in drug quality control laboratories and workforce training.
Leveraging technology
I believe automating manufacturing processes and warehouses will increase data availability and, more importantly decrease reliability on humans. Fully automated facilities will also reduce the risk of future disruptions due to infectious disease. Digital tools will also enable some key business processes such as auditing or product release to be done remotely.
Digital and analytical tools coupled with automation will be the engines that accelerate agility and transparency. In this way, companies will rely more on analytics led solutions. For example, in international transparency on stocks of essential medications and medical supplies, digital will play an essential role. Distributors and drug manufacturers may also begin to collaborate to create better stock visibility and improve forecasting.
CONCLUSION
As the world comes together in a collective effort to combat this pandemic, drug manufacturers, suppliers and other stakeholders in health care must work together to support and secure the medicine supply chain. Patients around the world deserve a supply chain that can withstand wide-scale disruptions now and in the future.