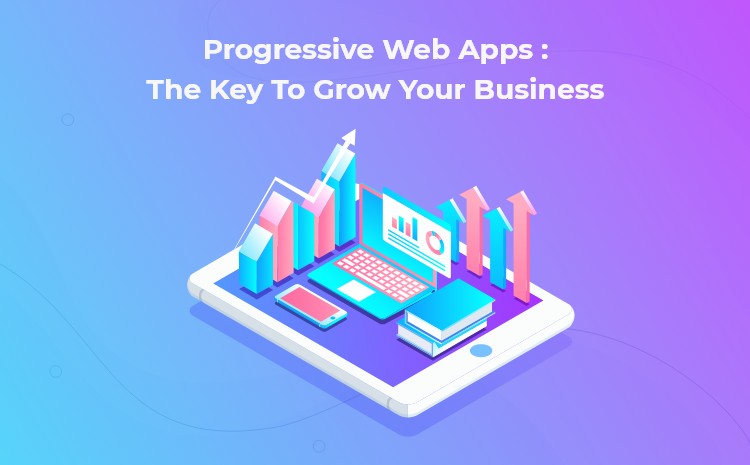 Progressive Web Apps : The Key to Grow Your Business
Businesses are going digital with the digital revolution taking place all over the world. So businesses are preferring dealing online with their customers via websites or a mobile application. With online business, attracting customers from any corner of the earth is possible, as all they have to do is just download your app or visit your website. But, most businesses prefer mobile app development rather than website development. They hire a mobile app development company or hire mobile app developers to fulfill their need for a mobile application for their business.
So, there are a lot of mobile app development options available in the market. You can choose native app development, cross-platform app development, or progressive web app development. Among all of them, Progressive Web App Development is quite trending at this time. Businesses are hiring PWA App Development Company to build their Progressive Web Apps.
In this blog, we will discuss Progressive Web Apps and how can it transform your business and increase your business revenue.
What is PWA?
A Progressive Web Application is an effective application delivered through technologies like HTML, CSS, and JavaScript. A progressive web application works like a website and feels like a mobile application. Installation of the app happens for the first time visit of the app. It has almost all the features which a native application has. It can use a fingerprint sensor, camera, GPS, and other such features that a standard native app can. 
Famous PWAs are Starbucks app, Uber, Pinterest, MakeMyTrip,  2048 game, and a lot of other apps. So, like a lot of famous companies, it's time to get your own progressive web app developed and get your business flooded with a huge success.
Just like those businesses, PWA can step up your business game as well, with its features and usefulness. Here are some features that will be helpful to your business when you use Progressive Web Application.
Progressive Web App Features
Here are the features that have the potential to grow your business through a progressive web app that can perform the best even in peak traffic and provides the users with an awesome browsing experience.
Direct Customer Contact

If you are a manufacturer of any product, then most probably you won't be selling in retail. You must be dealing with a wholesale agency, and you have to sell your products at lesser prices to them, but through a Progressive Web App, you can sell all of your products directly to your customer without any middleman. So, all profit is yours and that adds some great revenue to your business. So, you will get a lot of orders directly from end customers who can pay you retail price for your product, which adds a good amount of profits to your business. 
So, no more middlemen, no more reduced prices deal. Only profits, a lot of them, only when you develop a mobile application for your business.
Works with slow internet
Progressive Web Applications work even with the slow internet connection. As PWAs are built on HTML, CSS, and JavaScript, it can be loaded even with the slow internet connection. So, your customers can visit your website easily even when they have a 3G connection or slow internet connection. Serving a great user experience is the most important thing to keep up your business, and PWA will just serve the same purpose! 
Proper Hardware Usage
Just like a native mobile application, a progressive web application can also have proper hardware usage of your phone. For example, a native application can easily access your phone's hardware like GPS, Cameras, Fingerprint sensors, speakers, and more hardware. 
When you develop a progressive web app, it can also use all of your phone's hardware just like a native mobile app, and while using that PWA, you won't even know that it is a web app, because it provides an experience like a native app.
Increased Conversion Rate
A properly working web app can bring you a high user engagement rate, as it provides the users with a smooth browsing experience. A smoothly scrolling website with eye-pleasing graphics and animation has the ability to keep the user stuck to the screen.
As a progressive web app's front end is mainly built with the JavaScript framework, it will have an attractive and engaging user interface, so, it will fetch a higher engagement rate and thus, high conversion rate. So, choosing a PWA Development can bring you a high conversion rate and increased business revenue.
Automatic Updates
When you have a native application, you need to provide frequent updates to your mobile application. Whenever you implement a new feature or a function, you need to release that version and provide an app update to the users. Frequent app updates could be irritative for the user. Moreover, users don't like frequent app updates. But, when you have a progressive web application, you can deploy the new features in your app anytime, and the users get that update immediately. 
So, there will be no need to manually update your app as when then next time the user opens the progressive web app, it automatically fetches the new update and works with the new functionalities. So, there's absolutely no need to provide updates of your app every time. Just build it, test it, and release it
No App Store Maintenance
A progressive web app is a web-based app, which is built with HTML, CSS, and JavaScript. So, the app is directly stored on the server and accessed as a website. You can bookmark the app on the user's phone's home screen, so it can be accessed just like any other app. Upon clicking the icon, the app will be loaded in the default browser and will act like a native app. 
So, the progressive web app will be placed on the server, there is no need to maintain a Play Store account or App Store account. App Store account maintenance time and cost will be saved when your app is a Progressive Web App. So, you don't have to maintain both the Play and App Store accounts. You have to maintain just your progressive web app which works for both Android and iOS Platforms. 
Conclusion:
So, these are some reasons which make the progressive web app a key to the success of your business. So, if you are looking for an easy-to-maintain and easily deployable app, then you must opt for PWA App Development. If you too are looking for progressive web app development services, then you can contact us, as we are the best Progressive web app development company, and will develop a great PWA for you that grows your business and give you a high return on investment. All these with just a simple PWA App Development! Wonderful! Isn't it?