Motivation
My PMP certification journey started when I was taking a course called Information Systems Project Management in my master's. Below is the simple statistics that led me to pursue this certification:
A 1995 Standish Group study (CHAOS) found that:

Only 16.2% of IT projects were 'successful' in meeting scope, time, and cost goals.

Over 31% were canceled before completion, costing over $81 B in the U.S. alone

Time overruns were 222%, and cost overruns were 189%

Only 61% of features were provided
According to me, these stats should be the sole reason for anyone to take up this exam. These stats show the essential need for learning, implementing, and following the project management practices in any industry. However, higher salary prospects and global recognition are the other key motivational factors that could trigger your instinct to get PMP certified.
Preparation
From the preparation perspective, please always keep in mind that Project Management is not just a certification. It is a skill, and any new skill-building takes a lot of time and effort to get perfect. So, give yourself enough time for preparation, even if you already are a Project Manager. PMP is an exam of your ability to implement the standard strategies. It is similar to learning swimming, cycling, or any other capability that you want to acquire. Patience and perseverance are the keys.
It took me 1 month per se to get enough confidence to schedule my examination after I got the required approval from the Project Management Institute (PMI). I took another 1.5 months to concrete my Project Management skills to pass the exam.
I planned my entire study process like any manager would do to execute an assigned project. I weighed on the below factors:
Amount of time on a daily basis and overall, including buffer period when you need a breathing break.

The number of study material to be covered.

My ability to learn and understand the knowledge areas and respective processes.
So, I had approximately 2.5 months because of my spring break, thus, I could easily spend up to at least 5 hours of self-study on daily basis with occasional padding of breaks. Since I always follow the golden rule of 3 to learning anything, I divided my plan into 3 rounds of studying for each of the books mentioned below. A word of caution here: you can easily get disoriented or lose the track, so I would advise you to bend this rule as per your learning style and stick to the schedules.
The first round of studies was focused on getting an overall picture and perspective of standard Project Management. I read both the below-mentioned books in about 20 days. This phase gave me chance to further detail out my subsequent preparation planning, understanding the note-taking strategies, and segregate the topics that are required to be mugged-up. Yes, you read it right. Apart from developing an understanding of the processes for each knowledge area, it is required that we memorize the respective input/ output documents and tools. This made me understand the overall workflow of the Project Management processes and identify dependencies in them.
The second round of studies was concentrated on discrete note-making, watching videos on Youtube, and reading both the books. I devoted time exclusively to research around certain topics that I could not understand from books. Also, read blogs of certified PMPs to get real-time insight on their experience and how they are implementing the PMI guidelines at their workplace. While studying, I also used to solve questions from free samples that are available on google.
Before the third round, I solved one of the question papers using the simulator. That helped me in highlighting my strengths and weaknesses in understating the processes. I thus dedicated accordingly my time on those processes more than on others where I performed well, in the third round. Every weekend of this round was dedicated to solving practice papers, exam simulators, and reviewing each of the questions: right and wrong both. Here, it is crucial that you review each of the questions and identify gaps in your knowledge. For the right answers, I used to match the logic of my answer with the mentioned logic in the explanation section of practice papers. This way I ensured that it is just not the mere a guess, but logic has led me to the correct answer. For the wrong ones, I used to mark them and learn the respective logic. Also, I had taken notes that I see anything prominent. Subsequently, my book reading was going on for the third time.
Last 10 days for the final round of revision: The last 10 days are critical. In the last 10 days, I only revised the tools/techniques/inputs/outputs for each of the knowledge areas and processes. Also, revised the questions that I had marked wrong in practice papers. A day before the exam, I took a cursory look at the notes, sticky notes, packed my id card and appointment letter, ate good food, slept early and well for 8-hours. On the day of my exam, I ate breakfast, packed some energy bars, and most importantly, my coffee.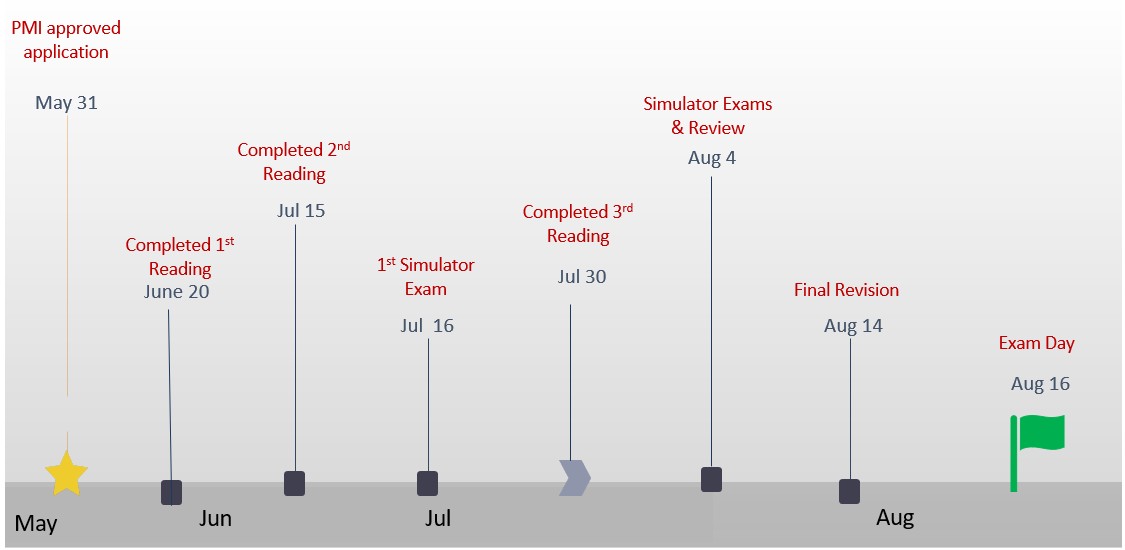 Exam description
The entire exam is of 4 hours with 200 questions and that too without any separate break. Thus, it is critical that you take a break in between to avoid chances of error due to fatigue. But, at the same time, it is important that you take this break wisely. I took a 10-minute break after finishing my 100th question. I practiced this while working on the simulator and made sure that I complete 100 questions, take a break, eat a bar, take few sips of coffee, and come back on time to finish the rest of the questions.
Study Material:
1. Youtube:
These channels helped me in clearing my doubts and provided different perspectives to think about a problem.
2. Books:
A Guide to the Project Management Body of Knowledge- PMBOK Guide (latest version)
        https://www.pmi.org/pmbok-guide-standards/foundational/pmbok
Rita Mulcahy's PMP® Exam Prep (latest version)
        https://store.rmcproject.com/shop-rmc
Counterfeit Alert: Amazon and other places are flooded with counterfeit copies of Rita Mulcahy and PMP guides. So, prefer to get it from the respective websites only.
3. Simulator:
It is important to build stamina of sitting for 4 hours and train your brain to use its analytical power and constant thinking for 4 long hours. Thus, practicing using a simulator is a must. I have mentioned here the simulator link that I used, however, you can use others if you want to.
As a final note, just want to wish you all the very best.  If you need me at any point in time during your preparation, please do not hesitate to contact me. You can connect with me through LinkedIn for any questions regarding the exam or message me on SkillSire.
Reference:
https://www.projectsmart.co.uk/white-papers/chaos-report.pdf
LinkedIn: Anjali Shukla, PMP