1.Background of the Company
Headquartered in Los Gatos, California, Netflix is an American over-the-top content platform and production company which provides subscription-based streaming entertainment service all over the world. The company's primary business is a subscription-based streaming service offering online streaming from a massive library of Movies, TV Series, Documentation, Feature Films in various languages including those produced in-house.
Netflix is considered the world's biggest streaming entertainment service and currently, the streaming giant has over 195 million paid subscribers from over 190 countries. The streaming service offers a massive library of People who are subscribed to Netflix through a paid-subscription plan can watch as much as they want, anytime, anywhere, on any internet-connected screen. Subscribers can play, pause, and resume watching, all without commercials or commitments. The streaming service is available all around the world except for Mainland China (due to local restrictions, Syria, North Korea, and Crimea (due to US sanctions). The company has several offices around the world in France, the United Kingdom, Brazil, Netherlands, India, Japan, and South Korea. Besides, Netflix is a member of the Motion Picture Association (MPA), producing and distributing content from countries all over the globe.
We all know Netflix as the world's biggest subscription-based streaming service that it is today but very knows about their past. Founded in 1997 by Reed Hastings and Marc Randolph, Netflix started its journey as a DVD rental firm and used to compete with the neighborhood video rental stores until 2007 when the company expanded its business with the introduction of streaming media while retaining the DVD and Blu-ray rental business. But it was 2012 when Netflix became a distributor and producer of both movies and television series and started to offer a wide variety of movies, television series, and documentaries among which most of them were Netflix Original content. Netflix released its first-ever content "The House of Cards" through their streaming service in 2013, and soon after they started producing and releasing several Netflix Original movies and series which are only available through their library. Today Netflix has evolved into a $125 billion steaming and production company with a long list of award-winning TV shows and movies that over 195 million subscribers which include 73 million subscribers in the United States.
1.1. Subscription Packages
1.1.1. United States
The table below illustrates the three types of Netflix Subscription Plans in the United States. Netflix has three types of subscription packages, Basic, Standard, and Premium, and each of them is tailored toward different types of audiences. The first subscription plan is the Basic Plan which is tailored towards people who like to watch Netflix on their smartphones or tablets with a lower resolution screen. The second plan (Standard Plan) is tailored towards people who wish to watch Netflix on two separate devices at the same time or wants to share their Netflix subscription with one of their friends or family member. The Standard plan also provides a better video quality of Full HD Resolution which makes the streaming experience much better on smart TVs, Computers, or Smartphones. The third and most expensive subscription is their Premium Plan which provides 4K+HDR streaming quality and watched on 4 screens at the same time. The Premium Plan is tailored toward a group of friends or an entire family, where each person can watch their favorite content on their device.  In addition to all the packages, each of these packages doesn't have any limitation on movies or tv shows and can be canceled anytime.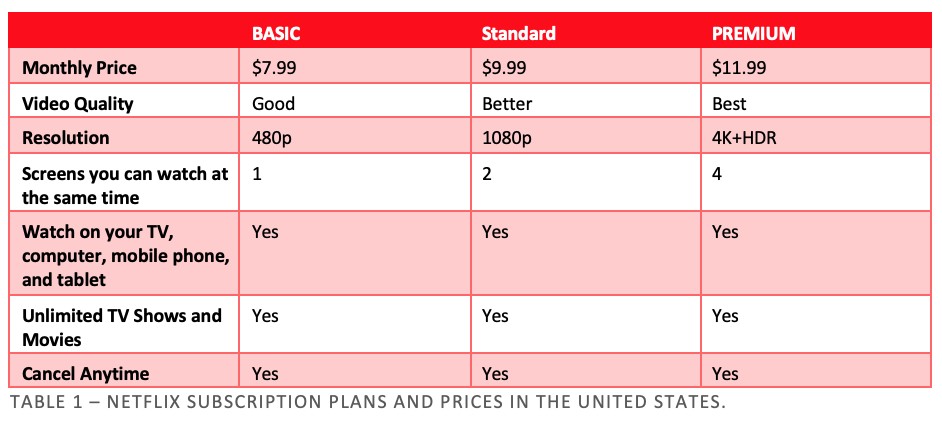 1.1.2. Best Value for Money
Netflix has a system of restricting some content from specific countries, which means that not all countries have access to the entire Netflix library. Netflix in the United States has the most titles overall—5,879 movies and shows—while Canada has the biggest catalog of movies, at 4,043 films. The pricing of Netflix Subscription Packages both the United States is similar, but some countries have access to a massive library but at a lower subscription rate. The table below illustrates five of the best cost-effective countries for all three subscription plans.



2. Impact of Covid-19 on Streaming Services
2020 has been one of the worst years for everyone around the world due to the Covid-19 pandemic, schools and universities switched to online teaching method, businesses were instructed to stay close, several people lost their jobs, and everyone around the world was instructed to maintain social distance from other people.  are maintain social distance from other people. Since most of the people around the world had to spend more time at home than usual, the best way to pass their time and relief themselves from boredom was to watch movies and tv series. The entertainment streaming industry saw a huge increase in new subscribers, and the already active subscribers were spending more and more time watching both new and old content (Forbes).
2.1. Impact of Covid-19 on Netflix
Among all the streaming services Netflix saw the most in terms of new subscribers during the first three quarters of 2020. In an article by Forbes, it was mentioned that Netflix added 15.77m new subscribers in the 1st quarter of 2020, 10.09m new subscribers during the 2nd quarter, and 2.2m new subscribers during the 3rd quarter of 2020. Although the rate of new subscribers decreased during each quarter of 2020, 28.87m new subscribers during the 1st three quarter of 2020 is an impressive number of new subscribers.
3. Company Analysis
3.1. Company Strategy, Business Strategy, Mission and Vision
3.1.1. Company Strategy
The company's strategy is to focus on original content and make it available to people all over the world in various languages. The company has continued to expand its collection of original movies and shows. It also plans to add more of them in 2020 and 2021. Its competitive moat has continued to strengthen. Netflix believes that every content can be made available to a mass audience from all around the world if marketed and advertised properly. This is why Netflix mainly uses social media advertisements and YouTube advertisements as their main media for advertisement.
3.1.2. Mission Statement
The mission statement of Netflix is "To entertain the world". This mission statement is based on the nature of the company in providing on-demand movie streaming services
3.1.3. Vision
The Vision of Netflix is to:
Becoming the best global entertainment distribution service
Licensing entertainment content around the world
Creating markets that are accessible to filmmakers
Helping content creators around the world to find a global audience
3.2. Marketing Plan
Netflix always trying to reach new members who have yet to discover what Netflix has to offer. Because Netflix has so much to offer, deciding what to market is essential to driving incremental acquisition of new members and incremental watching of existing members. By collaborating with leading online advertisers such as Facebook, Google, and YouTube, the organization seek to broaden their message to potential new members. One of the key questions is to figure out which titles make the most sense to include in their messaging. The right title can help pique their curiosity so that they give Netflix a try. Netflix uses Machine Learning deployed in online learning systems to determine what content is resonating with non-members in different contexts. Sometimes it may also be beneficial to market a title they are launching to existing members to get them to try a show that they would otherwise not have considered. The picture below displays a sample view of a Netflix advertisement during watching a YouTube video (Netflix).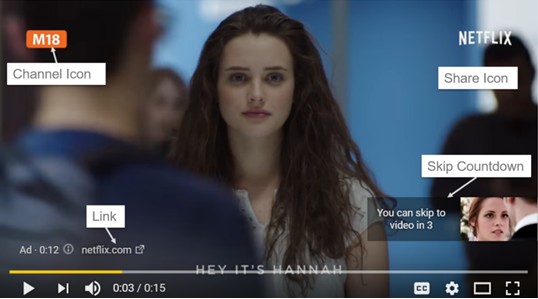 Picture 1 – Netflix Advertisement while watching a YouTube video.
4.Business Model Canvas (BMC)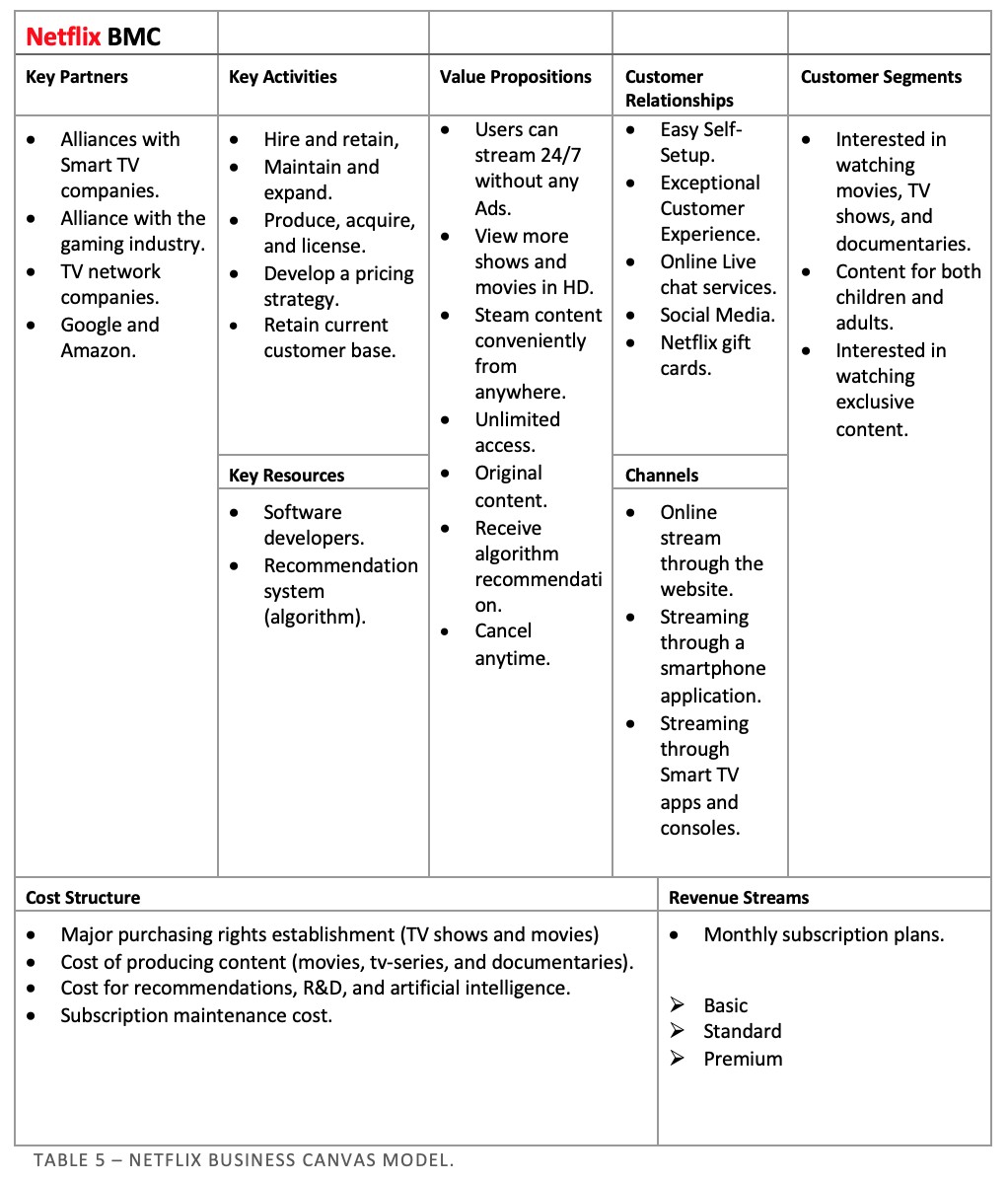 5. Market and Competitor Analysis
In this digitalized world several subscription-based streaming services have taken over since renting and buying physical disks are long has become always extent. Streaming service companies like Netflix, Amazon Prime, HBO Max, Hulu, Disney Plus, etc., has taken upon the title of the companies which offer streaming services for movies, tv-series, and documentaries. Each of the streaming services mentioned earlier has a massive library of various types of content including original content. Among all the companies which offer similar subscription-based streaming service, Netflix is considered as the biggest giant of the streaming industry. The diagram below illustrates the market share of some of the most popular streaming services around the world in 2019 (Statista).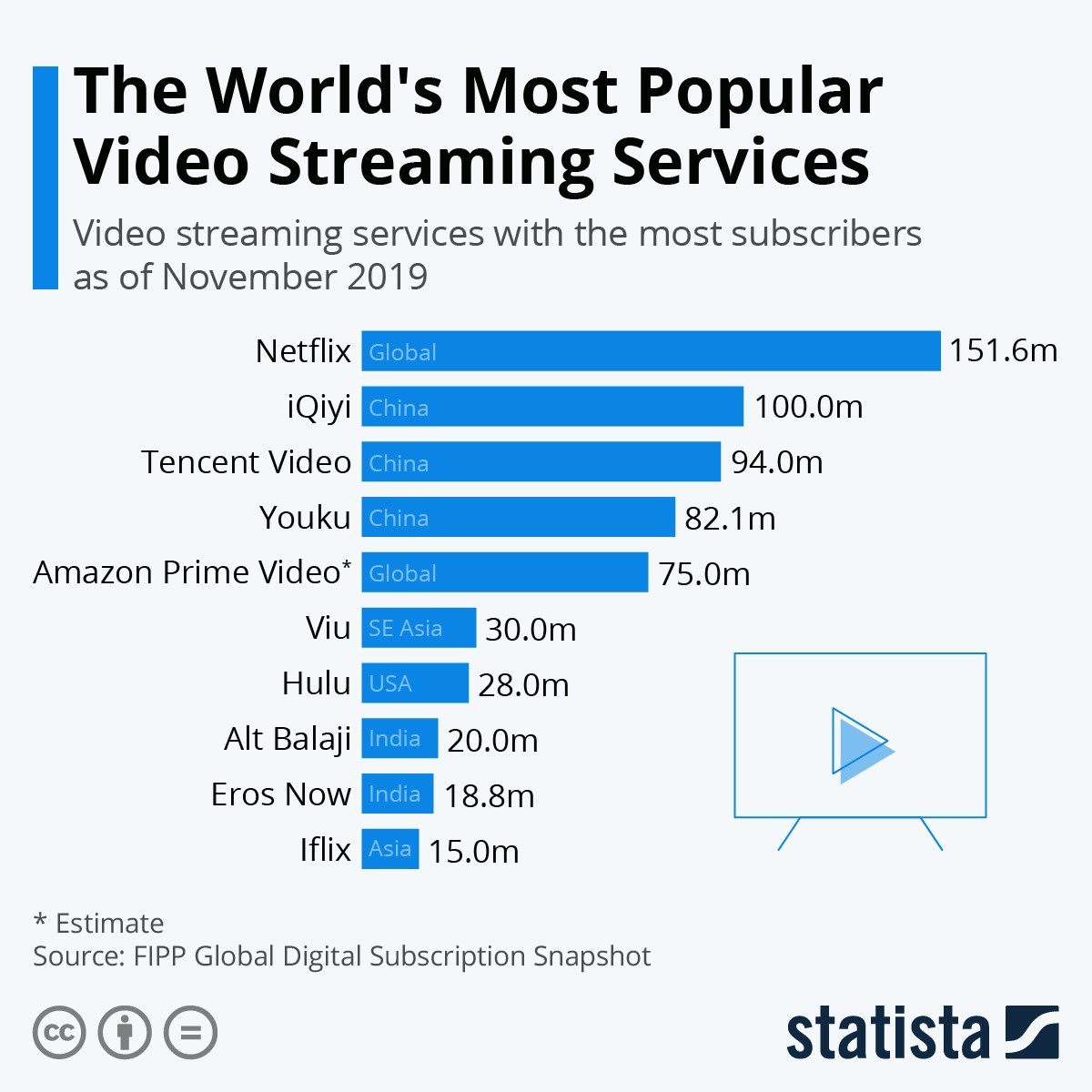 Diagram 1 – The World's Most Popular Video Streaming Service in 2019.
As shown in the diagram above, Netflix was the world's most popular video streaming service in 2019 and had a massive subscriber base of151.6m active subscribers as of November 2019. The following diagram will illustrate the top five SVOD platforms in the United States as of June 2020 (Statista).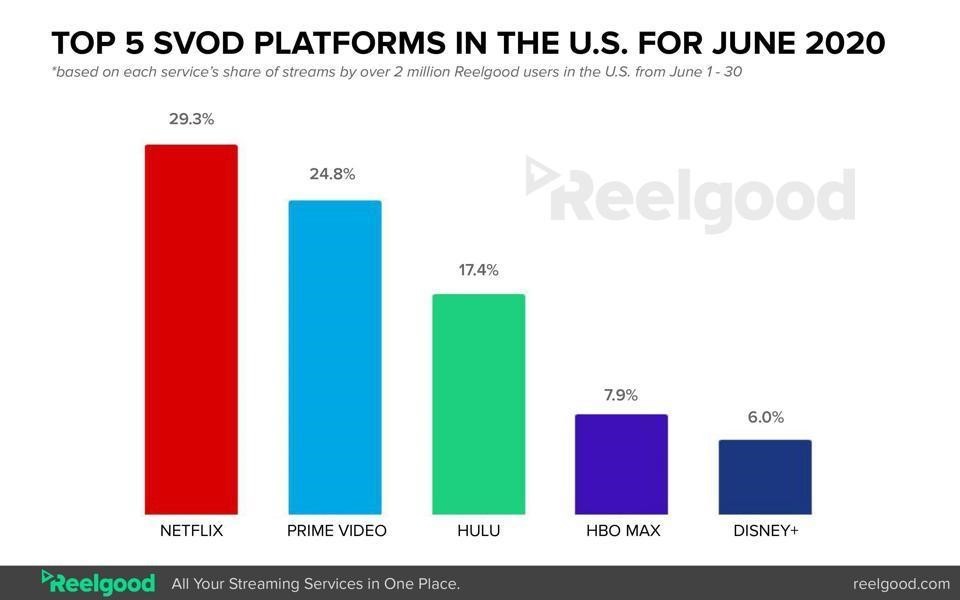 Diagram 2 – The World's top five SVOD platforms in the United States as of June 2020.
According to diagram 2, it can be seen that Netflix was the top SVOD platform in the United States as of June 2020 (Statista).
5.1. Competitors
5.1.1. Prime Video.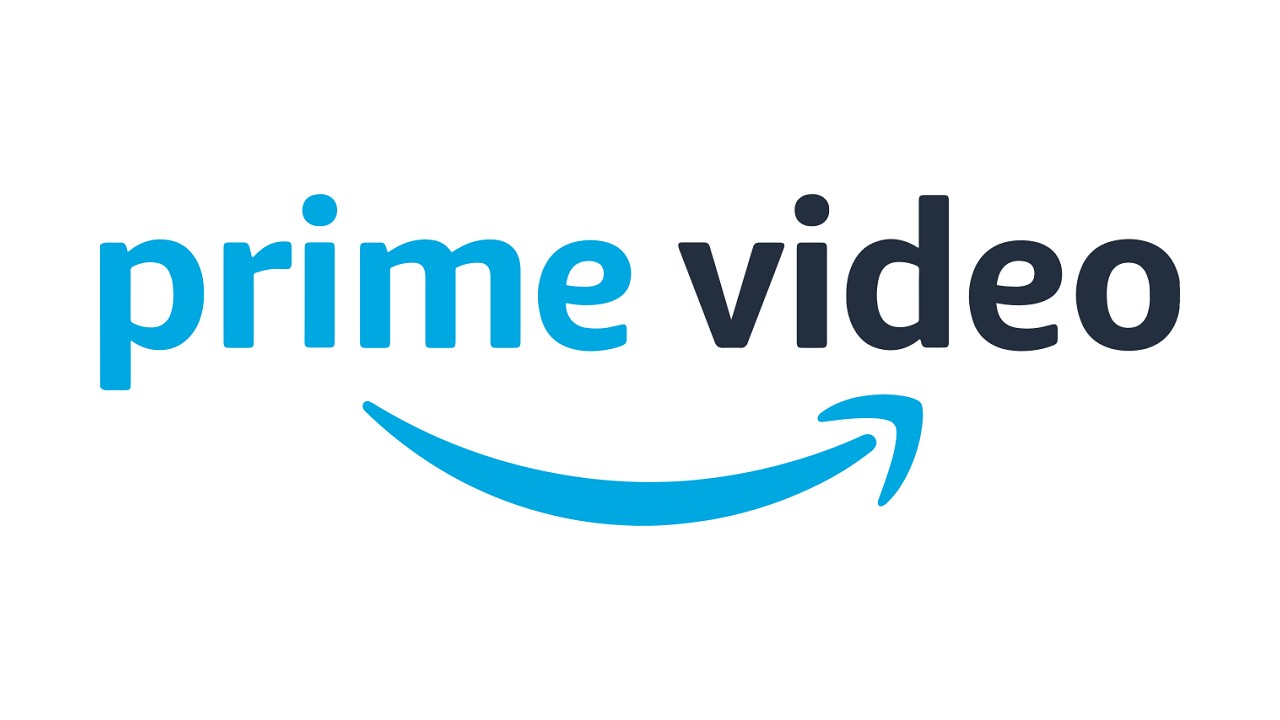 Founded on September 7, 2006, Amazon Prime Video knew Prime Video, is an American subscription video-on-demand over-the-top streaming and rental service of Amazon.com, Inc., offered as a standalone service or as part of Amazon's Prime subscription. Currently, the streaming service has a total of 150m paid subscribers all over the world, and is considered as the second-best or sometimes the best streaming service around the world and is available in over 200 countries worldwide.
5.1.2. Hulu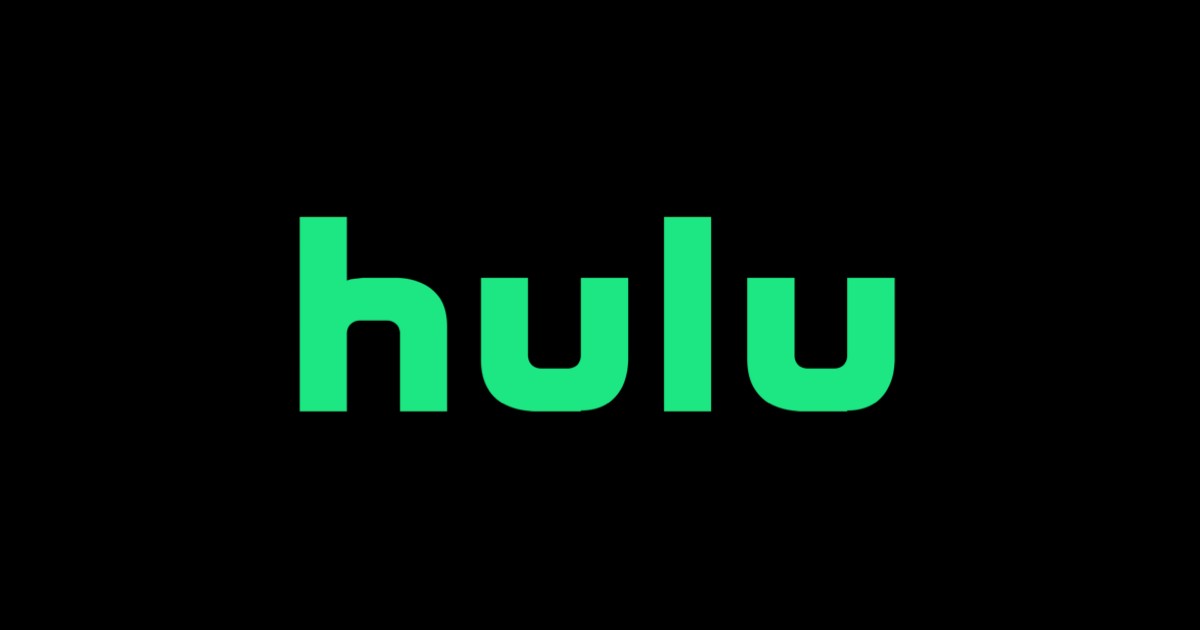 Founded in October 2008, Hulu is an American subscription video-on-demand service fully controlled and majority-owned by The Walt Disney Company, with NBCUniversal as an equity stakeholder. Currently, Hulu doesn't have any international plans, but owners say that may change. Hulu currently offers plans in the U.S. only. The on-demand service is available in the U.S. states and territories, as well as on U.S. military bases around the world. However, Hulu with Live TV is only available in the 50 United States. Currently, the streaming service has 36.6m subscribers.
5.1.3. HBO Max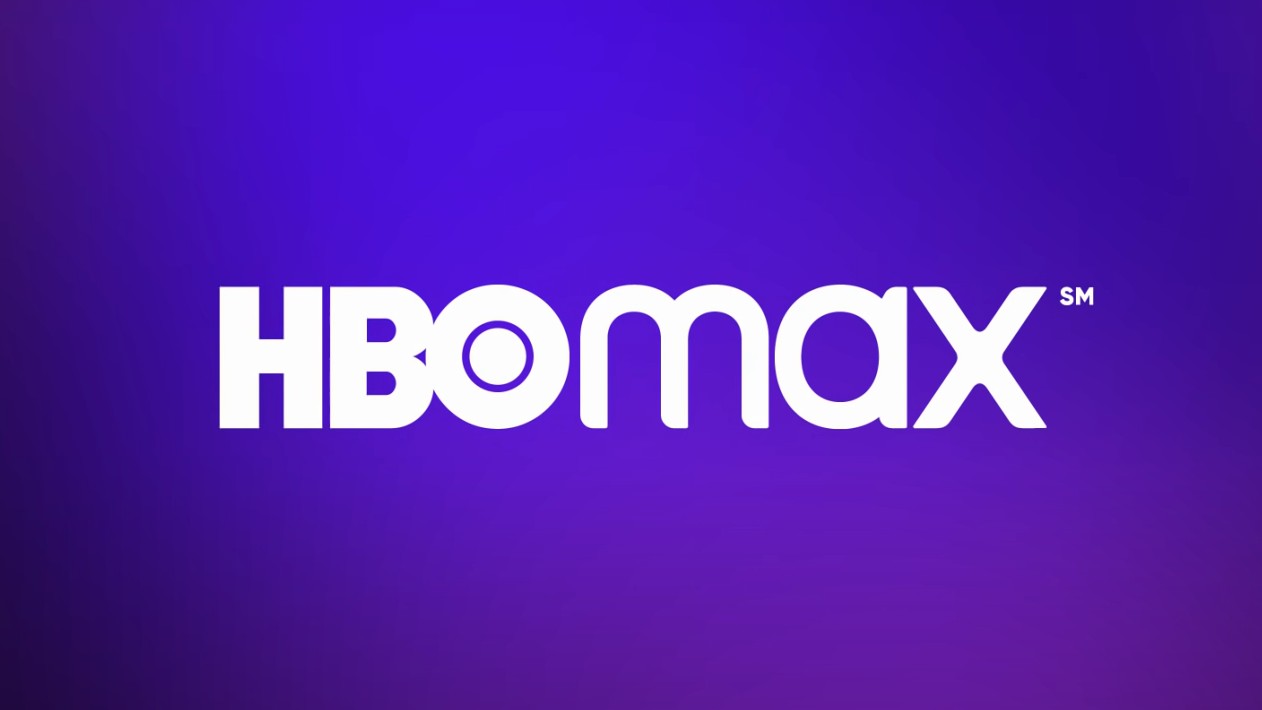 Found in May 2020, HBO Max is an American subscription video-on-demand streaming service owned by ATT through the Warner Media Direct subsidiary of its Warner Media unit and was launched on May 27, 2020. Currently, the streaming service is offered in the United States, but the streaming services plans to expand its reach to over 190 countries by the end of 2021. The streaming service currently has 12.6m paid subscribers, and it is expected to increase by the end of 2021 since the streaming service has announced that it will release movies that are produced under Warner Media on the streaming service on the same day of its theatrical release. 
5.1.4. Disney Plus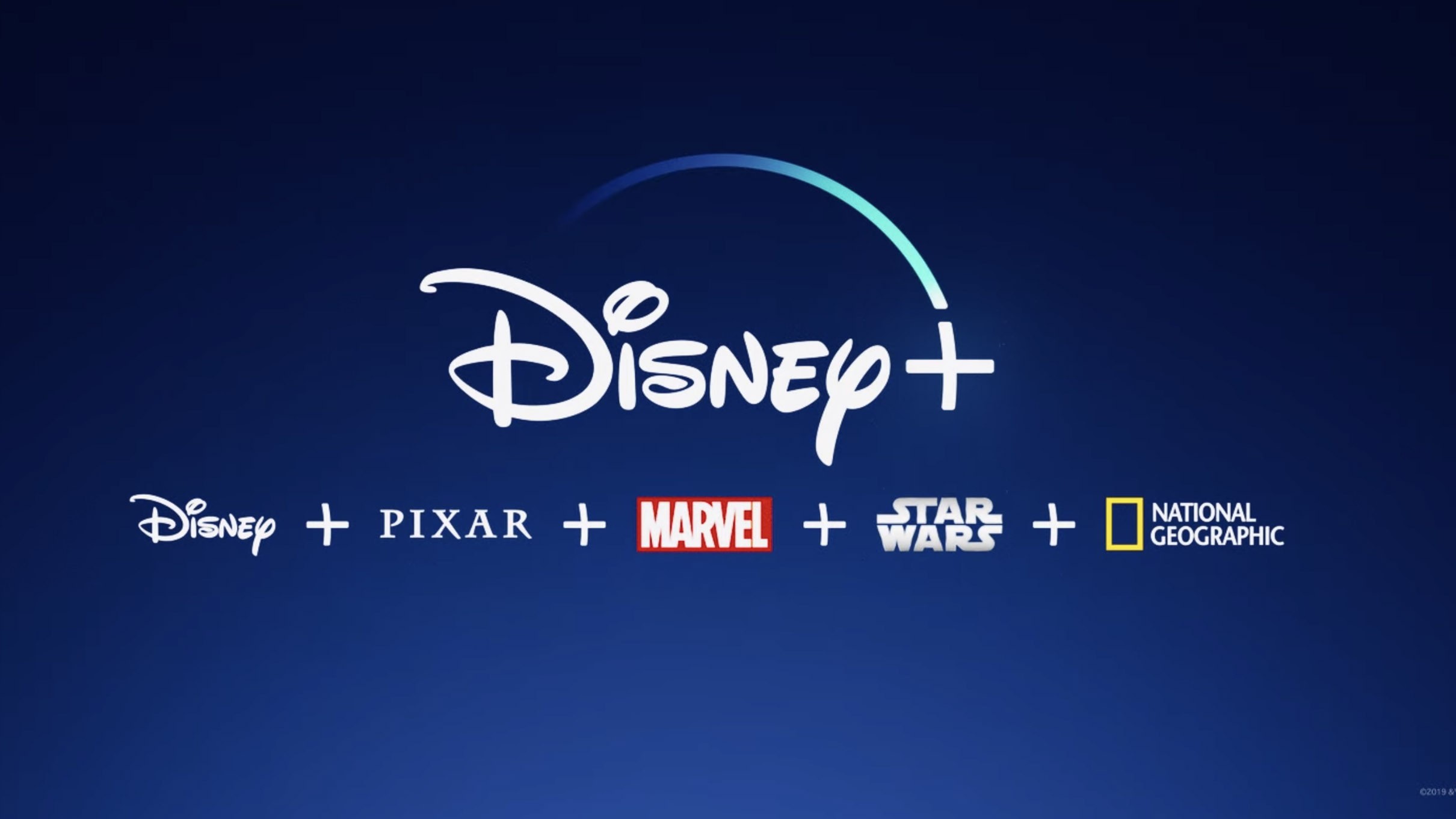 Founded in November 2019, Disney+ is an American subscription video-on-demand over-the-top streaming service owned and operated by the Media and Entertainment Distribution division of The Walt Disney Company. As of December 2020, the streaming service has 86.9m subscribers. As of October 2020, the streaming service is available in the US, Canada, the Netherlands, Austria, Germany, Italy, Spain, Switzerland, France, India, Belgium, Denmark, Iceland, Finland, Norway, Portugal, Sweden, United Kingdom, Ireland, Isle of Man, Monaco, Wallis and Futuna, French West Indies, French Guiana, New Caledonia, Japan, and Indonesia. The streaming service has plans to expand its reach to several other countries by the end of 2021.
6. SWOT and PESTEL Analysis
6.1. SWOT Analysis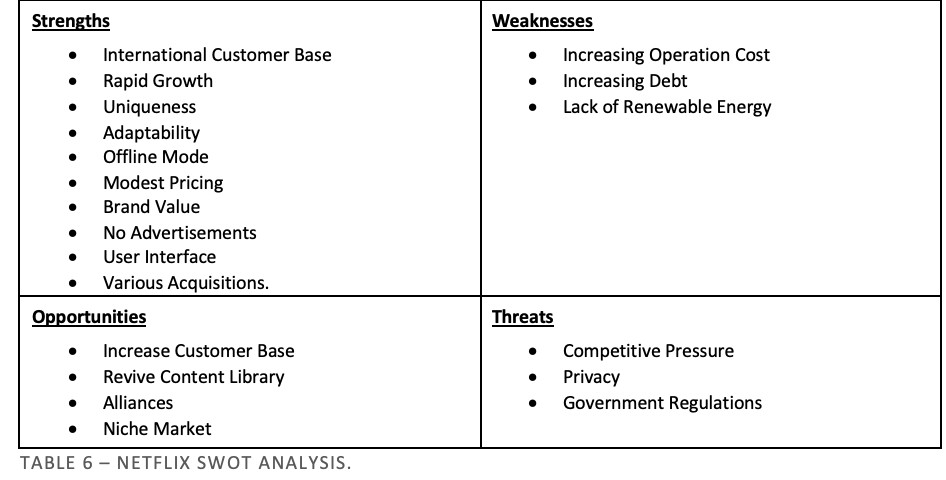 Strengths
International Customer Base – Since Netflix is the world's biggest streaming service, it has a huge customer base at a global level. As of 2020, Netflix has 195 million paid subscribers and due to the massive number of subscribers, the company has a strong trading power with studios to secure exclusive content.
Rapid Growth – Netflix became quite influential in the online streaming industry over the last 10 years. This is a major strength for the brand and its operations are being acknowledged by people around the world and it is seen in the millions of subscribers it has.
Uniqueness – Uniqueness is one of the major strengths of Netflix as the brand always focuses on creating unique original content for its subscribers, and so far, their original content like Stranger Things, Narcos, Orange, and Mindhunter has been one of the most popular shows.
Adaptability – Adaptability can be considered as a strength for both Netflix and all other streaming services, like Disney Plus, HBO Max, Amazon Prime, etc., because all these streaming companies can easily adapt themselves to new technological innovations. Netflix has adapted itself to newer technologies and created application for all smart devices like Android Smartphones, iPhones, iPads, Windows Laptops, Desktops, and Smart Televisions so that the subscribers can watch Netflix content on their smart devices which are connected to the internet.
Offline Mode – Netflix provides their user the option of downloading movies and tv shows so that they can watch them later without the need for any internet connection.
Modest Pricing – Unlike other streaming services, Netflix offers various pricing plans which are both affordable and offers a great value. The platform is less expensive than other cable movies or going to the theater, moreover, Netflix provides a wider selection of content than other rival stream services. Netflix also offers regional pricing which makes it easier for people from developing and underdeveloped countries to purchase their subscription package. Since the subscription prices of Netflix is so convenient, even though people can't go to work or losing their jobs during the Covid-19 pandemic, they are still subscribing to the subscription plans of Netflix.
Brand Value – The first name which comes to a person's mind when they think of streaming movies or tv series online through their smart devices or computer, is Netflix. Having a strong exposure like this has helped Netflix to create its series.
No Advertisements – The most irritating thing for someone while watching a movie or tv series on television is an advertisement. Thanks to Netflix, now people can watch their favorite movies and tv series without any sort of interruption which is caused by advertisements.
User Interface – The user interface of Netflix is user-friendly, easy to navigate. The user interface has several sections like trending movies, trending tv shows, search by category, etc., and a custom search bar. The user interface is one of the biggest reasons why people choose Netflix over other streaming services.
Content Acquisition – The brand has become so famous that it possesses the ability to make an unknown movie or tv show into a famous one. For example – Money Heist is one of the popular Netflix tv shows, but very few know that money heist was first released as La casa de Papel on Spanish network Antena 3 and didn't receive such popularity. Later on, Netflix bought the series, renamed it, and released it on Netflix in several languages with several subtitles so that people around the world can understand it.  The power of Netflix made the show one of the top trending shows on Netflix and currently, the series is filming its 4th season.
Weaknesses
Increasing Operation Costs – Creating in-house produced content requires a lot of finance, and since Netflix is increasing their production size each year, the operation cost for those productions will go up each year.
Increasing Debt – Netflix serves in several countries and has several offices around, for example in France, India, New York, Berlin, etc. Setting up in several places requires a huge amount of funds. Netflix has reported long-term debt during the year 2018 and it keeps adding over time. When there is an increase in debt, it indicates a sign of a noteworthy weakness.
Lack of Renewable Energy – Companies like Facebook, Google, Apple, Amazon, etc., have started to use renewable energy which will help to sustain the environment. Netflix has not still applied to use renewable energy or have imitated any business model to promote environmental sustainability. Not using green energy might harm the brand in the long run.
Opportunities
Increase Customer Base – Since Netflix has a huge customer base, the company can expand its reach and start entering countries where their service is available officially. If we take a look at the countries which don't have official Netflix services like Northern Korea, China, and Syria, people in those countries use VPN to use Netflix. Netflix can try expanding its reach into those countries and have its services officially available in those countries.
Revive Content Library – One of the great opportunities for Netflix is to expand its content licensing by enhancing or making changes to their contract with many movie distributors. Besides, Netflix should refresh its content library to much new content that it is producing currently.
Alliances – The brand should form a partnership with telecom providers which will allow them to provide a bunch of packages to different countries. Doing a partnership or allying with telecom providers will prove advantageous for Netflix. Netflix has recently partnered with Channel 4, and forming an alliance or getting into a partnership with several local broadcasters from all around the world will help them in accessing a much larger audience.
Niche Market – Netflix offers a lot of region-specific content all around the world, which has proven advantageous for them. Therefore, Netflix should provide more region-specific content for all the regions which has its services.
Threats
Competitive Pressure – When Netflix entered the online content streaming market there were very few companies who were offering the same service, which made the market competition very low. Currently, there are several competitors worldwide such as HBO MAX, Disney Plus, Hulu, Amazon Prime, etc., who provide similar services all around the world, and these companies compete with each other to become the leader in the streaming industry.
Piracy – Digital piracy is a big problem around the world, and it is considered a huge threat to Netflix. People find many ways to down movie and tv series using software like torrent for free, which has a huge negative impact on distributors, streaming services, and theaters.
Government Regulations – Each country has different types of governmental rules and regulations which can be a great threat for Netflix since the company has become a worldwide streaming service provider.
6.2. PESTEL Analysis
Political
Each country has different types of governmental rules and regulations for tech companies. Although Netflix is a streaming service company, it is also considered a tech company, therefore the rules and regulations which apply to any tech company in a country always apply to Netflix. There are some countries which prohibit a company from collecting data through devices and application, which means that in those countries Netflix cannot collect customer data from those countries. Also, there are some countries which prohibit blood and gore content or R rated contents, therefore Netflix has to make sure that those type of contents is not available in those countries. Netflix has tailored its services and contents in every region or country according to the rules and regulations of those regions or countries. Another area where the government's role is highlighted in the context of international tech businesses like Netflix is taxation. Several countries are actively considering new laws for international companies like Netflix, which will increase the tax liability of Netflix.
Economic
Economic factors play a different role in the context of international business, especially the business offers entertainment services. Higher economic activity and employment levels of a country lead to higher spending on entertainment services. For the last few years, the global economic performance was impressive and people all around the world were spending more on entertainment services like Netflix. But recently due to the Covid-19 pandemic, the performance of the global economy has decreased which resulted in people spending carefully since people are getting unemployed, businesses are making a loss instead of profit, etc. Even though people are spending less on leisure items and services, Netflix has experienced a significant rise in its memberships. Economic activity is expected to rise once the global pandemic is gone, but Netflix must consider the fact that if the global pandemic is not over soon then people all around the world might avoid entertainment services like Netflix.
Sociocultural
Sociocultural factors have become important for almost all international business and several international businesses like Netflix has made sociocultural factors an important part of their operational and marketing strategy. Netflix is targeting a global audience, which makes it important for Netflix to pay attention to the preferences and tastes of people from every society, culture, religion, region, etc. This is the reason why Netflix has content for all genres and languages. People all around the world can experience content in the language of their choice. Netflix has always added multiple language subtitles to every content so that if a person wants to enjoy the content in the content's original language then he or she can use their preferred subtitle to understand the content which they wish to watch. Netflix has made sure that there is content available for every subscriber whether they prefer action, drama, comedy, thriller, sci-fi, or romance, there is always enough content in every genre. Netflix library in every region is allocated in such a manner so that it matches the taste of the modern generation.
Technology
The technological factor is something which companies nowadays use to increase their growth in the business industry. In the case of Netflix, technology is at the core of its business model. Inside every Netflix offices around the world, there is always a lot of technology-related stuff going on all the time. How Netflix uses technology is to understand their customer demands and provide the utmost customer experience. Netflix uses an algorithm to analyze which type of movies and shows their target population likes, and based upon their research they always try to make those types of content available in their library. Whenever someone watches a particular series or movie through Netflix, the streaming service adds content from that genre to the viewer's recommended series and movies. For example, a Netflix user watches two war-related movies through Netflix, after that whenever the viewer checks their recommended content section in their Netflix account, movies and series related to war is going to be displayed and the viewer can watch those movies without going through an intensive search throughout the library. Netflix always recommends popular shows and movies through their recommended section to every single subscriber so that every subscriber can enjoy the most popular and trending content. The company always focuses on using best in class technology to improve user experience, such as improving their servers, library, video quality, etc. The company invests a large sum each year in research and development to drive higher user engagement and grow its popularity. 
Environmental
The environmental factor is mainly relevant to businesses that are involved in manufacturing some kind of physical product. How businesses impact the environment has a direct impact on their social reputation and brand image.  Since Netflix is a business an online business, it does not have a direct and heavy impact on the environment. Even though the company does have a direct or heavy impact on the environment, their business cannot run without consuming resources. The company consumers a lot of electricity, in 2019 the company used around 94,000megawatt-hour of energy directly. Most of the electricity which the company uses comes from nonrenewable energy sources, which is why the company has started to use renewable energy in several places to minimize its impact on the environment. Apart from that Netflix always practices sustainability as much in its office operations. The sustainability practices include using less paper and donating extra to people in need. Also, during 2020 due to the global pandemic Covid-19, governments from all around the world have requested governments from all around the world has ordered companies to use fewer economic resources so that those resources can be used to help people during the pandemic. Netflix is following those orders and reduced its operations to save energy resources.
Legal
Legal Factors play a major role in the context of the technical and digital entertainment industry. The laws in this area are still evolving and governments from all around the world are implementing new laws now and then for the technological and digital entertainment businesses. One of the biggest government laws which Netflix has to follow during all its operating is maintaining their user's privacy. Several international companies like Apple, Google, Amazon, Facebook, etc., have faced a large number of cases regarding the invasion of user privacy. Netflix is always making sure that the information which their users submit to the company is kept private. Besides, as discussed in the environment section, the company is following government laws of using less energy during the pandemic.
7. Financial Analysis
7.1. Revenue

According to yahoo finance, Netflix had an increased revenue each year from 2017 till 2020. Although Netflix is yet to announce its official revenue for 2020, the revenue amount for 2020 in the table above only showcases Netflix's revenue for the first three quarters of 2020. As shown in the table above, Netflix had a massive improvement in terms of revenue each. It is assumed that the percentage increase in revenue from 2019 to 2020 will be much bigger than in previous years since the company has acquired a massive number of new subscribers during 2020.
7.2. Share Price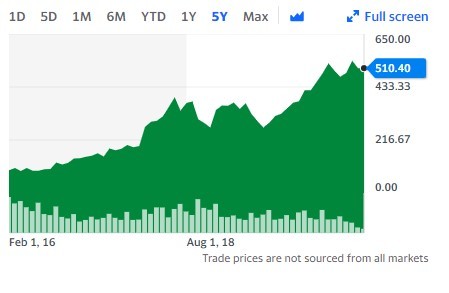 Diagram 3 – Share Price of Netflix.
The diagram above illustrates the current and historical share price of Netflix. As of January 8th, 2021, the share price of Netflix is $510.40 which is 1.51 (+0.30%) than the value of 7th January 2021. The company had its highest share price of $540.73 on December 1st, 2020. The share price of Netflix has started to decrease from December 2nd, 2020 but it is expected to rise again in near future. Also, if we have closer look at the share price graph, it can be seen that even though 2020 was a rough year for almost every business, the share price of Netflix has significantly increased during 2020 which is due to the increasing demand and popularity of Netflix during the Covid-19 pandemic.
8. Conclusion
Netflix is the world's biggest content streaming service and nobody can deny that. 2020 has been one of the worst years for almost every business around the world, but for Netflix, it has been one of the most successful years so far as the company gained millions of international subscribers. Netflix is still the biggest giant in the streaming industry and the reason behinds its domination and success is its Marketing Strategy and Pricing Strategy. Netflix uses one of the most influential mediums for advertisement, Facebook, Instagram, Twitter, and YouTube, which gathers the attention of their entire Target Market.
9. References
"About". BUSINESS AREAS. Marketing Growth. Helping more people find and enjoy Netflix. Netflix,https://research.netflix.com/business-area/marketing-and-growth. Accessed 8 Jan. 2021.
Armstong, Martin. "The World's Most Popular Video Streaming Services".
ENTERTAINMENT, Statista, February 2020. https://www.statista.com/chart/20701/video-streaming-services-with-most-subscribers-global-fipp/. Accessed 7 Jan. 2021.
Beaty, Artie. "Which Streaming Services Are Most Popular During Coronavirus?". News, Cor Cutters News, April 2020. https://www.cordcuttersnews.com/which-streaming-services-are-most-popular-during-coronavirus/. Accessed 6 Jan. 2021.
"Company Profile". Netflix Investors, Netflix 2021. https://ir.netflix.net/ir-overview/profile/default.aspx. Accessed 7 Jan. 2021.
Heisler, Yoni. "This chart illustrates why Netflix is the most popular streaming service". Entertainment, BGR, August 2020. https://bgr.com/2020/08/06/most-popular-tv-shows-netflix-vs-hulu-amazon/. Accessed 6 Jan. 2021.
"Income Statement". Netflix, Inc. (NFLX), Yahoo Finance, January 2021. https://finance.yahoo.com/quote/NFLX?p=NFLX. Accessed 8 Jan. 2021.
Iqbal, Mansoor. "Netflix Revenue and Usage Statistics (2020)". Business of Apps, Business of Apps, October 2020. https://www.businessofapps.com/data/netflix-statistics/. Accessed 8 Jan. 2021.
Jenner, Mareike. "Netflix and the Re-invention of Television". Springer, 2018. Accessed 8 Jan. 2021.
Khetarpal, Sonal. "How Netflix became an online streaming giant". Top Story, Business Today, September 2019. https://www.businesstoday.in/top-story/how-netflix-became-an-online-streaming-giant/story/380997.html. Accessed 7 Jan. 2021.
MOORE, AMELIA. "Netflix's Generic Strategy, Business Model Intensive Growth Strategies". BUSINESS MANAGEMENT, COMPANY ANALYSIS, Rancord Society, November 2019. https://www.rancord.org/netflix-business-model-generic-strategy-intensive-growth-strategies-competitive-advantage. Accessed 7 Jan. 2021.
Management Glossary Team. "SWOT Analysis of Netflix in 2020 | Netflix SWOT". Management Glossary, Management Glossary, April 2020. https://managementglossary.com/swot-analysis-of-netflix/. Accessed 7 Jan. 2021.
"Netflix Business Model (2020) | How does Netflix make money". Business Insider Hub. Business Insider Hub, October 2020. https://bstrategyhub.com/netflix-business-model-how-does-netflix-make-money/. Accessed 7 Jan. 2021.
"Netflix gets 16 million new sign-ups thanks to lockdown". News, BBC April 2020. https://www.bbc.com/news/business-52376022#:~:text=Netflix%20had%20to%20pause%20the%20production%20of%20new%20shows%20during%20the%20lockdown.text=Netflix%20said%20revenue%20increased%20to,the%20same%20period%20in%202019. Accessed 6 Jan. 2021.
"Summary". Netflix, Inc. (NFLX), Yahoo Finance, January 2021. https://finance.yahoo.com/quote/NFLX?p=NFLX. Accessed 7 Jan. 2021.
Samson, Rachelle. "The Business Strategy of Netflix". Profolus, Profolus, November 2018. https://www.profolus.com/topics/the-business-strategy-of-netflix/. Accessed 7 Jan. 2021.
Ozdiyar, Yunus Emre. "Netflix cheap and expensive price comparison by country 2020". Netflix News, Netflix Junkie. June 2020. https://netflixjunkie.com/netflix-cheap-expensive-price-comparison-country-2020/. Accessed 7 Jan. 2021.
Uenlue, Murat. "Netflix Business Model Canvas". NNOVATION TACTICS, NNOVATION TACTICS. https://innovationtactics.com/netflix-business-model-canvas/. Accessed 6 Jan. 2021.
Vultaggio, Maria. "Disney+ Surpasses 28 Million Subscribers Since Launch". DISNEY+, Statista, February 2020. https://www.statista.com/chart/19970/disney-10-million-subscribers-24-hours/. Accessed 7 Jan. 2021.
Walsh, Joe. "Netflix Subscriber Growth Slows After Surging During Pandemic". Forbes, Forbes, October 2020. https://www.forbes.com/sites/joewalsh/2020/10/20/netflix-subscriber-growth-slows-after-surging-during-pandemic/?sh=4bb8cb9f244e. Accessed 7 Jan. 2021.