I. Introduction
According to EMarketer, for the first time in 2019, US consumers spent more time using their mobile devices than they do watching TV at three hours and forty-three minutes and three hours and thirty-five minutes, respectively. The usage of smartphones is for digital music, social media platforms and digital videos in through applications (Wurmser, 2019).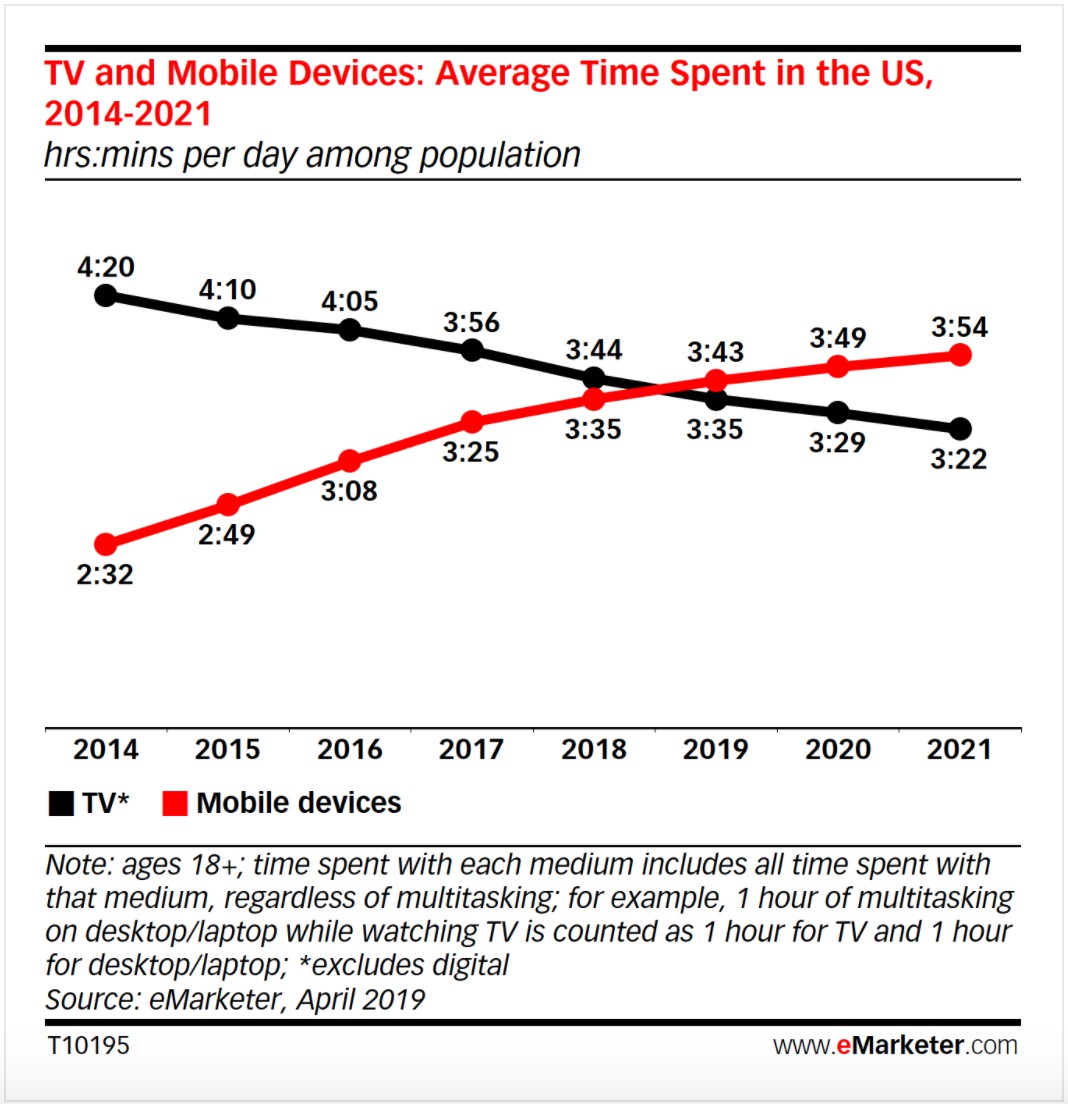 Source: (Wumser, 2019)
Accessing digital videos is done through streaming platforms and there are many to choose from in terms of price points, features and content libraries. According to USA Today, the average cable bill is around $85 to $100, thus making the monthly subscription cost of streaming services more attractive to consumers. While it is true that the costs can add up depending on how many you subscribe to, it still seems a more viable option as less equipment is required such as not needing the clunky cable box and it is more convenient for people with having the content at their fingertips which can viewed anytime and anywhere (Schurman et al., 2020).
According to surveys, most people are willing to acquire about three to five of these streaming services (Shaw, 2019). People make their decision depending on what they want and need.
It seems to call into question, why now? Why are these media companies deciding now to take part in the Streaming Wars? YouTube, Netflix and Hulu have been in the streaming business for more than a decade while media companies stayed with cable TV. Since more and more people are canceling their cable subscriptions, these companies are finally embracing that the internet is really where the business is going and they need to innovate accordingly. Hub Research LLC conducted a Content research in October 2019 that stated 63% of people watched their favorite show online but no one wants to purchase each show or film they are viewing online (Shaw, 2019).
II. Current Industry Landscape
Disney+ is one of the streaming services currently available in the market. According to Forbes, as of May 4, 2020, Disney+ has 54.5 million subscribers worldwide after only six months (Vecchio, 2020). Streaming services have their own pricing strategies, a wide selection of films, TV series and documentaries, and original content, a unique interface, simultaneous streams (number of screens), and a recommendation system as seen in the Ten Types of Innovation below. Disney+ places third in terms of number of subscribers with Netflix at more than 160 million subscribers worldwide; HBO with more than 140 million, and Hulu, at 30.7 million (Palmer, 2020).
Ten Types of Innovation
Configuration
Profit Model

Network

Structure

Subscription Model: between 4.99 to 54.99 for each service

Bundled Pricing (with other streaming services or company offers)

Partnerships (free with network providers such as ATT (HBO), and Verizon (Disney+) and free with Amazon Prime (Prime Video))

Mergers and Acquisition: Disney acquiring Hulu and Fox

Coopetition: Netflix, Prime Video, HBO

Supply Chain Management: Films shown in theaters are eventually shown in the streaming services

Competency Center: Resources in charge of different film activities, categories and genres

Centralized Management: films and TV series produced go through board of directors, for example, LucasFilm
Offering
Process

Product Performance

Product System

Intellectual Property: Ownership of certain characters and source materials

Production: Announcements and Press Conferences of films and TV series to produce and when they will be released

Predictive Analysis: Determining which TV series and films to produce based on market research and early releases

Engaging Functionality: some extra features such as behind the scenes clips are provided

Customization: Watchlist Creation, Rating Systems

Product / Service Platforms: Desktop access via its website, Application access for mobile and tablet

Integrated Offering: Multiple subsidiaries in one platform such as for Disney+ and HBO Max

 
 Experience
Service

Channel

Brand

Customer Engagement

Guarantee Try Before: one-week or one-month trial before being charged

Concierge: Search options

Context Specific: Social Media content and featured and sponsored ads that promote the products

Cross Selling: Films released often promote that its predecessors are available already

Co-branding: Use of the logos even when the films and TV Series are of its subsidiaries

Community / Belonging: No matter what age is welcome to watch the films and TV series available on the platforms although parents can still monitor their children's watchlists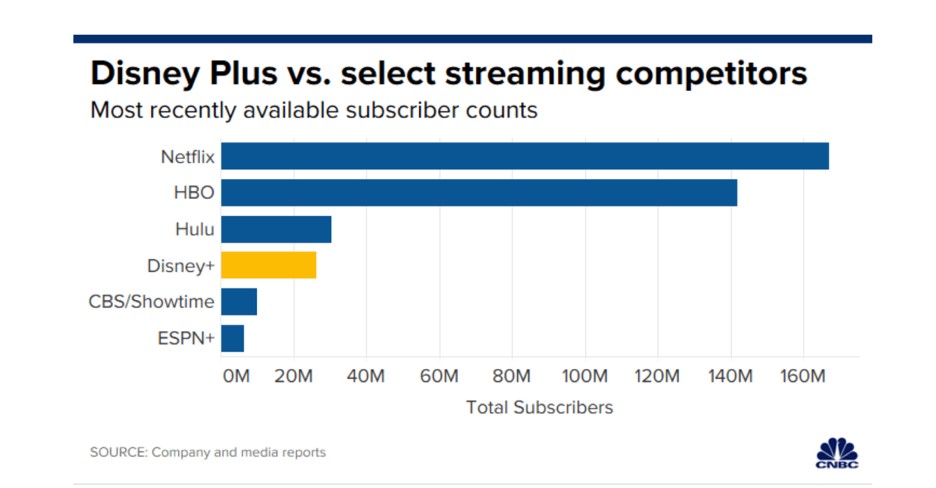 Source: (Palmer, 2020).
Bob Iger previously mentioned that Disney+ won't produce as much material as Netflix but, instead will focus on quality. Apple TV Plus, which was also released in November 2019 has not disclosed its subscriber count and opts to create its own programming as well. Netflix produces a lot of content throughout the year and purchases licenses to properties. Hulu creates its own content, has add-ons like live TV and events, and licenses films and TV shows. Add-ons of Hulu are the streaming services of cable networks such as HBO, Viacom (BET Plus), CBS (CBS All Access), NBC (Peacock, to be released soon), Showtime, and Starz, etc. who opted to have a streaming service to cater to its consumers who do not have access to cable TV (Heller, 2020).
This puts the streaming business at a weird place. It seems that these media companies are trying to mimic the cable TV model to online streaming but without the comprehensive pricing strategy. The monthly costs of streaming services can range from $5.99 per month to more than $99.99 depending on the total number of purchased platforms. This puts consumers at a disadvantage and media companies are pressured to churn out content to keep up with competition. Disney+ remains at an advantage because of its many licensed properties and more to come as Disney plans to reacquire its properties from Netflix in the coming years.
Also, on May 27, 2020, ATT's WarnerMedia released a new streaming service called HBO Max. This differs from current HBO offerings as HBO Go requires a cable subscription to be accessed. This seems unheard of as most businesses were closed for the month of April and May as part of lockdowns and restrictions for Covid-19 dictated by the government (Perry, 2020). 
 III. Anticipated Business Objectives
Companies are expected to produce more content for their streaming services. While production of films and TV series are halted for 2020 because of Covid-19, films supposedly released in theaters are being reformatted sooner than expected and released on the streaming platforms instead. One example of this is Trolls World Tour which was released to limited theatres and video on demand last April 28.
According to Wall Street Journal, Trolls World Tour was released through digital rentals on demand at a price of $19.99 and three weeks later, it has earned over $100 million. This changes the game for studios as they have been looking for ways to release their films during the pandemic; and this gave them the opportunity to experiment with digital first releases. Universal executives took advantage of the lockdown to keep their film release schedule. Jeff Shell, the head of the film studio division of NBCUniversal, is looking into releasing films in both the formats once theatres reopen. This however caused Adam Aron of AMC Entertainment Holdings, Inc. to state, in an open letter, refusal to show NBCUniversal's films if they pushed through with this plan. However, it seems that the studios, other than NBCUniversal, will look into and plan to pursue the digital first releases as they will keep about 80% of digital or rental fees as opposed to the 50% of fees with movie theaters. Universal already has multiple films scheduled for digital releases such as "The King of Staten Island," which was scheduled to be released in theaters, June 19th. However, A lot of films are still not willing to pass up the opportunity for a wide theater release such as The Fast and The Furious sequel, and Disney films which caused John Fithian, chief executive of the National Association of Theatre Owners to state that, "A limited number of exceptions doesn't really make a changed business model" (Schwartzel, 2020).
Applying the Ten Types of Innovation model towards streaming services means making the final decision between conformity and originality. For example, for Disney+, it did just recently come into the streaming game but that does not mean it cannot change it. The first step is paying attention to its consumers on the platform. This not only means lessening errors and lag times as shown below, but also, which films and TV shows these people watch in order to come up with a comprehensive strategy on what new content to produce.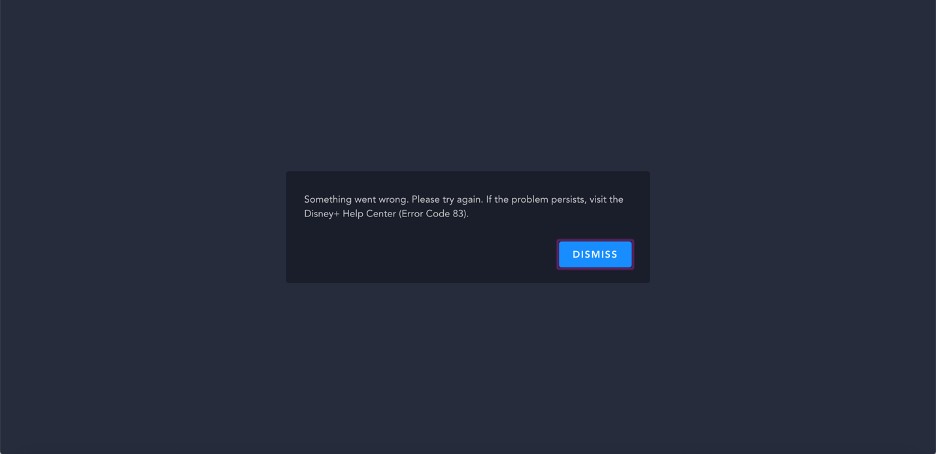 Source: Disney+
Another detail to pay attention to is how these people process the content made available to them. To illustrate, the image below shows the details section of one of Disney's old films, The Aristocats, this film is notorious for its offensive cultural depictions. While it was a different time when this film was made, it is a good move by Disney+ to be genuine and honest and deleting these scenes from the film is denying that the offensive depiction existed. It is this awareness of Disney's past that will lead them to make better decisions in the future.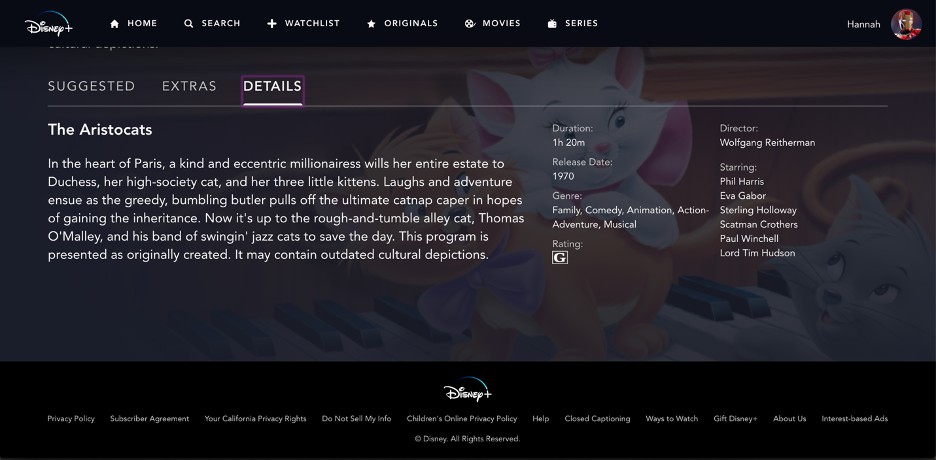 Source: Disney+
In addition, HBO Max decided to pull "Gone With The Wind" from its library because of its offensive racial depictions amid the Black Lives Matter protests. These included blindness to the horrors of slavery and depicting the antebellum South idealistically. A spokesperson for the company stated that it was a product of the racial and ethnic prejudices of its time and while it was wrong then and wrong now, keeping it in the platform without context would be irresponsible. In addition, the racial protests has gotten The Paramount Network to cancel the show, "Cops" after 33 seasons (Victor, 2020).
The second step of perspective is about trying to consume the digital product with a fresh set of eyes. Instead of focusing on what the selection of films and TV series these streaming services have, it will be good to focus on what it does not have. To illustrate, for Disney+ aside from Black Panther, there are no films or TV series that depict people of color as main characters. In addition, Disney+ has been slow in creating content regarding persons with disabilities and LGBTQ+ friendly material. While it may be argued that the industry is about making money and those types of content are a huge risk, a counterargument is that Disney has money to spare and it can be a trendsetter about open-mindedness and representation. It is not enough for Disney to pat themselves on the back when they put people of color or LGBTQ+ people as minor characters that can be easily edited out of film releases. Disney has to take a stand in this regard to be in support of or not.
Amazon Studios' Jennifer Salke has been talking about their global content strategy starting with an event series from Joe and Anthony Russo who are directors most known for directing "Avengers: Endgame," which will have local language episodes starting with India and Italy. Salke believes that the globalization of streaming services has encouraged her ot think that stories and content can come from anywhere and it would be a good starting point to tell stories from other countries and cultures (Jarvey, 2020).
It is time for Disney to practice what it preaches when it comes to imagination and realize them. Marvel has created hype by announcing films that will feature people of color and it has multiple other materials to adapt. Marvel often tests audiences through comic book releases first and then adaptations should they be successful. To do this well, it has hired more women and men of color to create a wider range of characters. Disney+ could leverage this not just for Marvel and produce the films and TV series on its platform because doing so is cheaper than having theatrical releases and there is already an audience, their subscribers. In doing these experimentations, the prototypes can be cartoons and animations which are less expensive than live-action versions.
These streaming services publish their content spending estimates with Disney at the top. Netflix is reported to be spending about $17 billion on content this year. This is $2 billion increase from 2019 as shown below. Most of this budget will be spent on Originals, but Netflix has contracts with Nickelodeon about licenses, multi-film and TV deal with the "Game of Thrones" duo David Benioff and Dan Weiss and a contract with a Korean company called Studio Dragon (Spangler, 2020).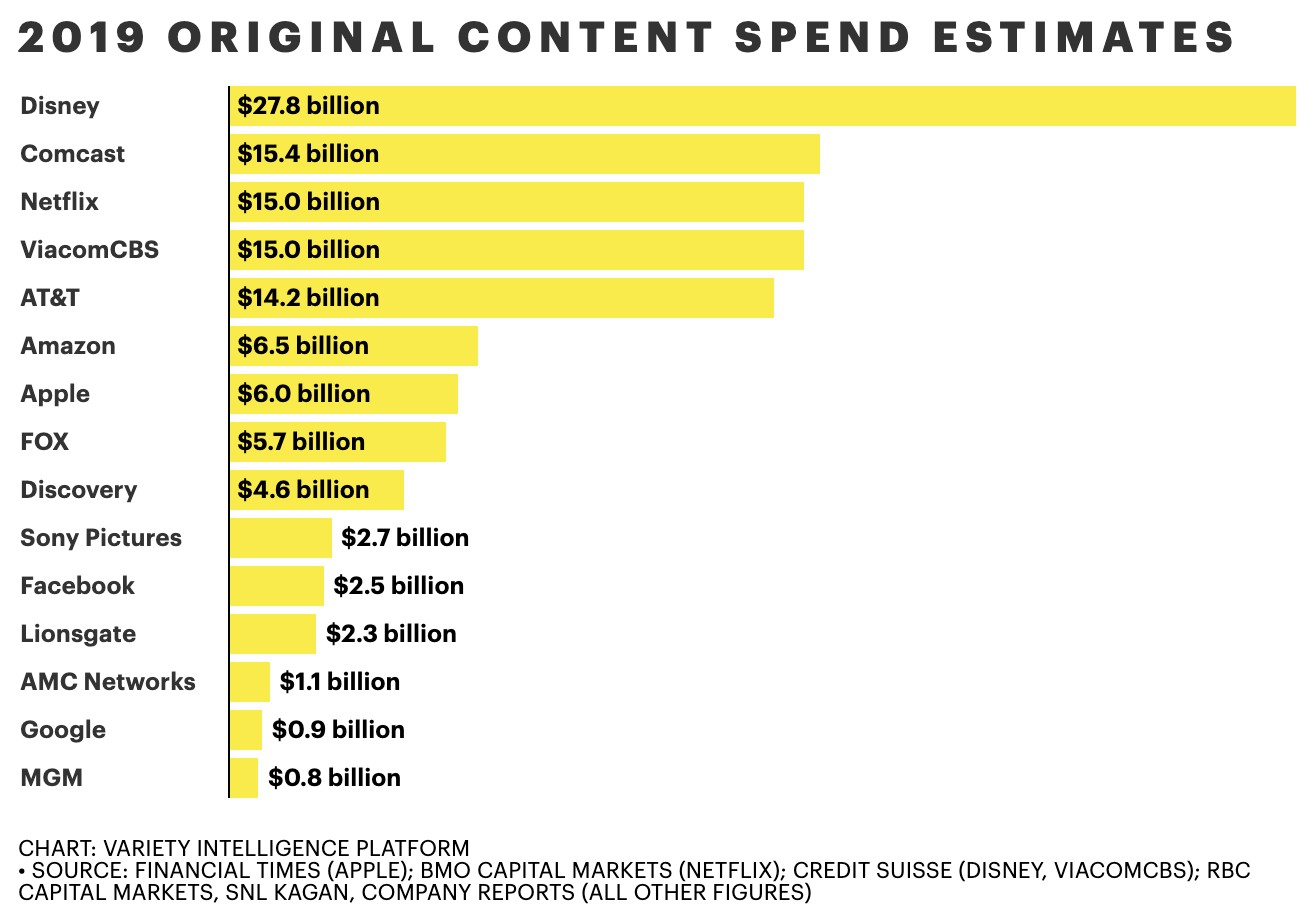 Source: (Spangler, 2020)
In creating all these changes, streaming services are planning to expand to more and more countries. In terms of reaching audiences, the film industry today tends to cater to the Chinese market because of the massive audience but streaming services could take this further by expanding to more countries sooner.
 IV. Conclusion
Streaming services have to set their own paths and content strategies. The streaming wars do not have to be plainly competitive, but a coopetition with more bundle choices for consumers. For example, Disney+ could set its own path and be original. No other company has the resources and reputation in order to create changes and shape the future of the industry. Netflix already has the most number of subscribers and can take advantage of being first in the business as well. Amazon Studios has the talents of Phoebe Waller-Bridge and Mindy Kaling. HBO Max has multiple properties to take advantage of as well. These companies have the resources to come up with a strategy that works for them and for the consumers. The landscape will likely change as technological advantages are to be expected but as cable TV is losing subscribers, they will be picked up by the streaming services and it is up to them to make the most out of their strategies.
Subscriber counts is already a key performance metric. For example, in a timeline of five years that Disney+ plans to acquire all of its content and spread to a worldwide audience, it should also produce new content that will reflect the general makeup of that audience. A key performance metric to measure the success of this is an increase of the number of subscribers per specific region, that is, North America, Latin America, Europe, Africa and Asia and the data regarding their behaviors.
Going global in terms of content and reach may be another way to compete. This is not to mean that there are no obstacles along the way. Cultural differences have to be taken into account and it is not easy to circumvent these but these can be overcame by testing out contents with its initial audience, North America and this audience is diverse in itself. In addition, more women and men of color and LGBTQ+ people should be hired and should not just be a vanity metric but should be given opportunities to succeed and tell their stories. One way to do this is by spearheading a program where minorities are given opportunities to climb up the corporate ladder and make big and important decisions. These companies would benefit from more efforts in Social Media listening. Users have a lot of influence and they can benefit from listening to feedback and what is being said.
 V. References
Heller, E. (2020, January 16). The Essential Comparison Guide to Every Streaming Service. Polygon. https://www.polygon.com/2019/11/7/20903616/best-streaming-service-netflix-hulu-amazon-disney-plus-hbo-comparison-shows
Jarvey, N. (2019, February 13). Amazon's Jennifer Salke details global content strategy, Russo brothers event series. The Hollywood Reporter. https://www.hollywoodreporter.com/live-feed/amazon-studios-jennifer-salke-details-global-content-strategy-1186475
Palmer, A. (2020, February 4). Disney Beats Earnings Expectations but Does Not Update Disney+ Guidance. CNBC. https://www.cnbc.com/2020/02/04/disney-dis-earnings-q1-2020.html 
Perry, N. (2020, June 3). What is HBO Max? Digital Trends. https://digitaltrends.com/home-theater/what-is-hbo-max/#:~:text=HBO%20Max%20launched%20on%20May,expensive%20than%20other%20streaming%20packages
Schurman, K., Cohen, S., Webb, K. (2020, May 13). The best streaming services you can sign up for online. Business Insider. https://www.businessinsider.com/best-streaming-service#the-best-for-original-shows-1
Schwartzel, E. (2020, April 28). WSJ news exclusive | 'Trolls world tour' breaks digital records and charts a new path for Hollywood. WSJ. https://www.wsj.com/articles/trolls-world-tour-breaks-digital-records-and-charts-a-new-path-for-hollywood-11588066202
Shaw, L. (2019, November 30). Bloomberg. Bloomberg - Are you a robot?. https://www.bloomberg.com/news/articles/2019-11-30/what-the-streaming-wars-mean-for-the-future-of-tv-quicktake
Vecchio, G. D. (2020, May 11). Disney plus has the potential to become a $30 billion giant in only 5 years. Forbes. https://www.forbes.com/sites/genedelvecchio/2020/05/11/disney-plus-has-the-potential-to-become-a-30-billion-giant-in-only-5-years/#2178438e34a3
Victor, D. (2020, June 10). HBO Max pulls 'Gone with the wind,' citing racist depictions. The New York Times - Breaking News, World News Multimedia. https://www.nytimes.com/2020/06/10/business/media/gone-with-the-wind-hbo-max.html
Wurmser, Y. (2019, May 30). US time spent with mobile 2019. eMarketer. https://www.emarketer.com/content/us-time-spent-with-mobile-2019